Sydney Cockerell's passion for music was nurtured by his family, which boasted talented amateurs, and by his close circle of friends which included no lesser music critics than George Bernard Shaw and Dr Franz Hüffer, and leading artists, such as Burne-Jones, Ricketts and Shannon, who proclaimed music the sublime form of all artistic expression. Cockerell's tastes were wide ranging. Mozart remained his favourite composer, but he succumbed to Wagner's genius under the influence of G.B. Shaw and Charles Ricketts. With Shaw by his side, the operas of Verdi and Bizet were always a treat. He attended most opera performances in Cambridge and his wife designed the costumes for many of them. He shared a passion for Chopin, Liszt, Schumann, and Richard Strauss with Charles Ricketts, and admired Gluck together with Burne-Jones. But Cockerell was not a musical snob.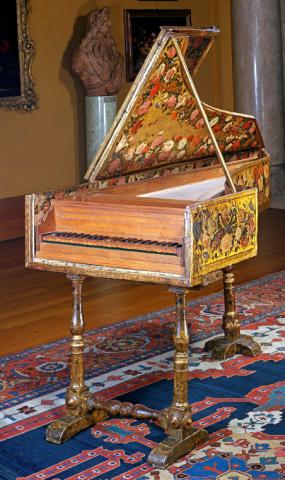 He enjoyed Gilbert and Sullivan to the full and said so. Cockerell was enthusiastic about folk music and supported the work of Cecil Sharp, the pre-eminent figure in the collecting, study, and performance of folk songs and dances. But his favourite form of entertainment was to listen to old French and English songs. This devotion to old songs reflected one of the chief preoccupations of the Arts and Crafts Movement, the revival of early music. William Morris had taken a keen interest in it and had supported its main advocate and practitioner in England, Arnold Dolmetsch. Morris had encouraged Dolmetsch to build his first harpsichord. In September 1896 Dolmetsch came to Kelmscott House with a pair of sixteenth-century virginals and played old English music as Morris lay dying. The next year Dolmetsch made a clavichord, which Burne-Jones decorated for his daughter Margaret. Burne-Jones designed several pianos himself, turning away from the large dimensions and elaborate curves of contemporary instruments, and looking back to the simple, angular shapes of eighteenth-century harpsichords and their predecessors.
Within the first year of his Directorship, Cockerell recognised the outstanding importance of the Museum's collection of music. Its nucleus was Viscount Fitzwilliam's volumes of Handel, Purcell and Alessandro Scarlatti, and it included a significant number of autographs.
Handel was Fitzwilliam's greatest hero and the library he bequeathed to Cambridge University in 1816 preserved one of the most important holdings of Handeliana in England, second only to that of the British Museum. Determined to build on these strengths, Cockerell appointed the first Honorary Keeper of Music in 1910. Edward Joseph Dent was an expert on seventeenth- and eighteenth-century Italian opera, on Mozart and Alessandro Scarlatti.
In 1918 Cockerell and Dent acquired a volume that Fitzwilliam would have been truly proud of, Scarlatti's autograph score of his hundredth opera, La fede riconosciuta, completed in 1710. They purchased it from William Barclay Squire, Assistant Keeper of printed music at the British Museum. Barclay Squire became a generous donor and enriched the Fitzwilliam's music collection together with three other major benefactors, Ralph Hare Griffin, James Stewart Henderson and Sir Henry Francis Herbert Thompson. They gave or bequeathed an impressive number of scores, including autographs by Bach, Beethoven, Brahms, Berlioz, Liszt, Mozart, Schubert, and Schumann. These were accompanied by autograph letters from Beethoven, Brahms, Cherubini, Chopin, Liszt, Rossini, Robert and Clara Schuman, Weber, and Wagner.
Other acquisitions were a tribute to Viscount Fitzwilliam as much as to William Morris and Arnold Dolmetsch, for instance the Tisdale Virginal Book containing a section of sixteenth-century keyboard music and making, in Cockerell's words, 'a suitable companion to the famous Fitzwilliam Virginal Book.' One of the greatest treasures in the Founder's collection, the Fitzwilliam Virginal Book remains the most important anthology of sixteenth- and early seventeenth-century English keyboard music in existence.
In 1933, Enrichetta Angelina Marchetti, whose husband, Prof. Edward Bullough, was a member of the Fitzwilliam Syndicate, presented an Italian harpsichord that had belonged to her mother, the famous Italian actress Eleanora Duse. An early seventeenth-century instrument made of cypress wood, with keys of boxwood and ebony, the harpsichord was enclosed within a sumptuous case, painted in oil probably in seventeenth-century Tuscany. Arnold Dolmetsch, William Morris and Burne-Jones would have would have taken great interest and pleasure in this acquisition.